Advertising
DESIGN
Packaging, Billboard, Campaign, Website & UI
My advertising projects have included template design and product packaging ideas, visual identities for advertising campaigns, billboards, and motion graphic design.
In designing packages or advertising campaigns, etc., in addition to applying my client›s opinion, I had to persuade his audience or customer to buy or provide the product. In this process, I have often been in the role of copywriter and graphic designer. Obviously, I have created slogans for my clients› advertisements and products and used them in my designs.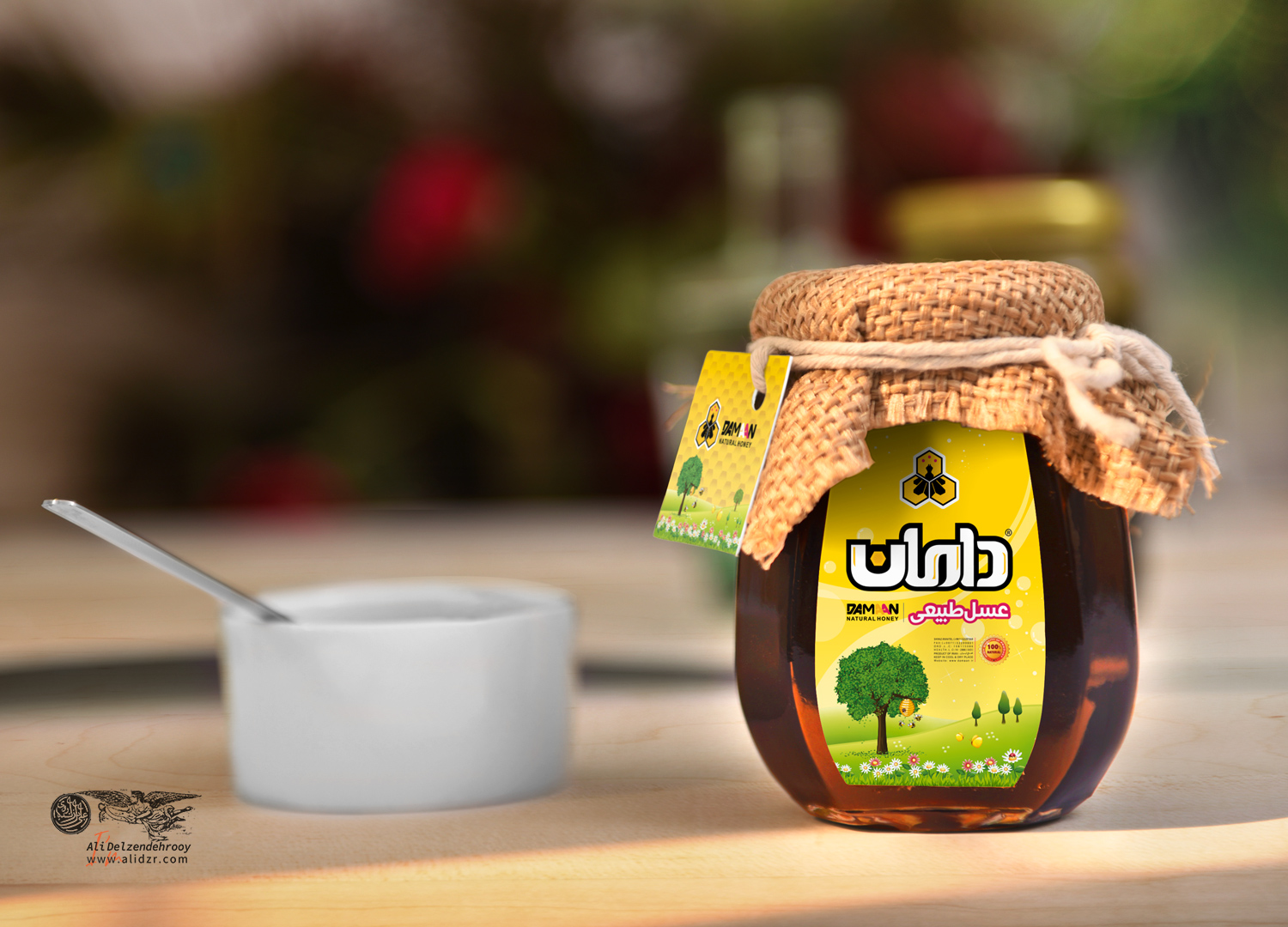 Designing food labels for Damaan Company has been one of the most valuable projects of mine. I have been with this company since 2005 and I have designed many items for this company. Graphic design for layouts and cut-outs of product labels and packaging, as well as billboards, advertising stands, motion graphics, etc., have been among my works. In designing the label of honey products of this company, I have implemented different and varied designs according to the type of packaging, weight and quality level of the products. Sometimes I have used abstract and graphic symbols representing pristine nature for layout, and sometimes flat and simple designs that better show the brand to the Customers.
Order: Packaging design
Title: Damaan Honey Co.
Client: Mr. Gerami Shirazi
Technique: Offset printing
Date: Since 2005 to Present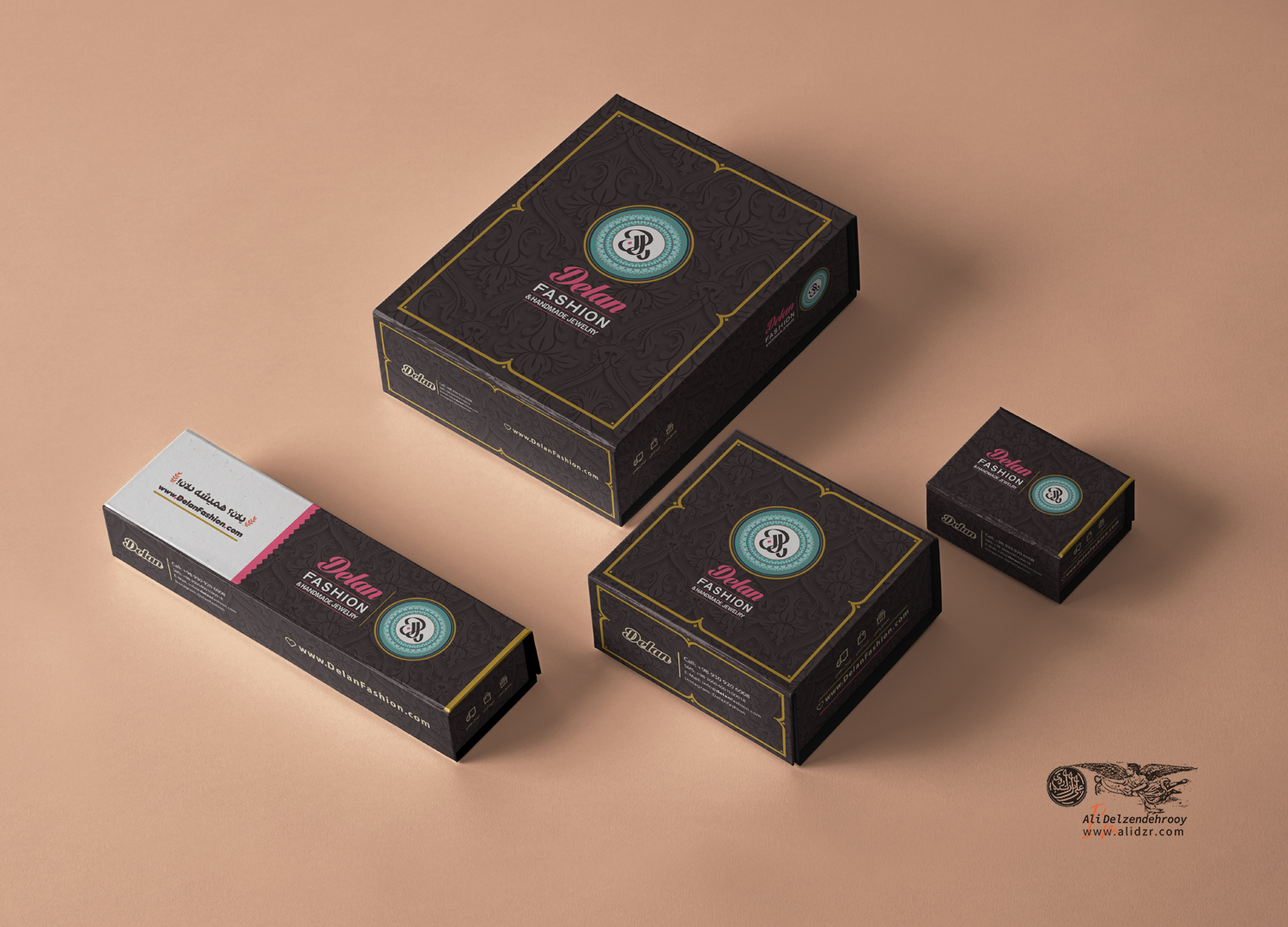 Delan›s products are also a work of art. This company sells jewelry with Persian typography to its customers, which started in 2012 as a creative startup and has the first online store selling jewelry with Persian typography in Iran.
The packaging design of the company›s products was orderd to me.
Order: Packaging design
Title: Delan Fashion & Handmade Jewelry
Client: Delan Fashion Co.
Technique: Offset printing
Date: 2015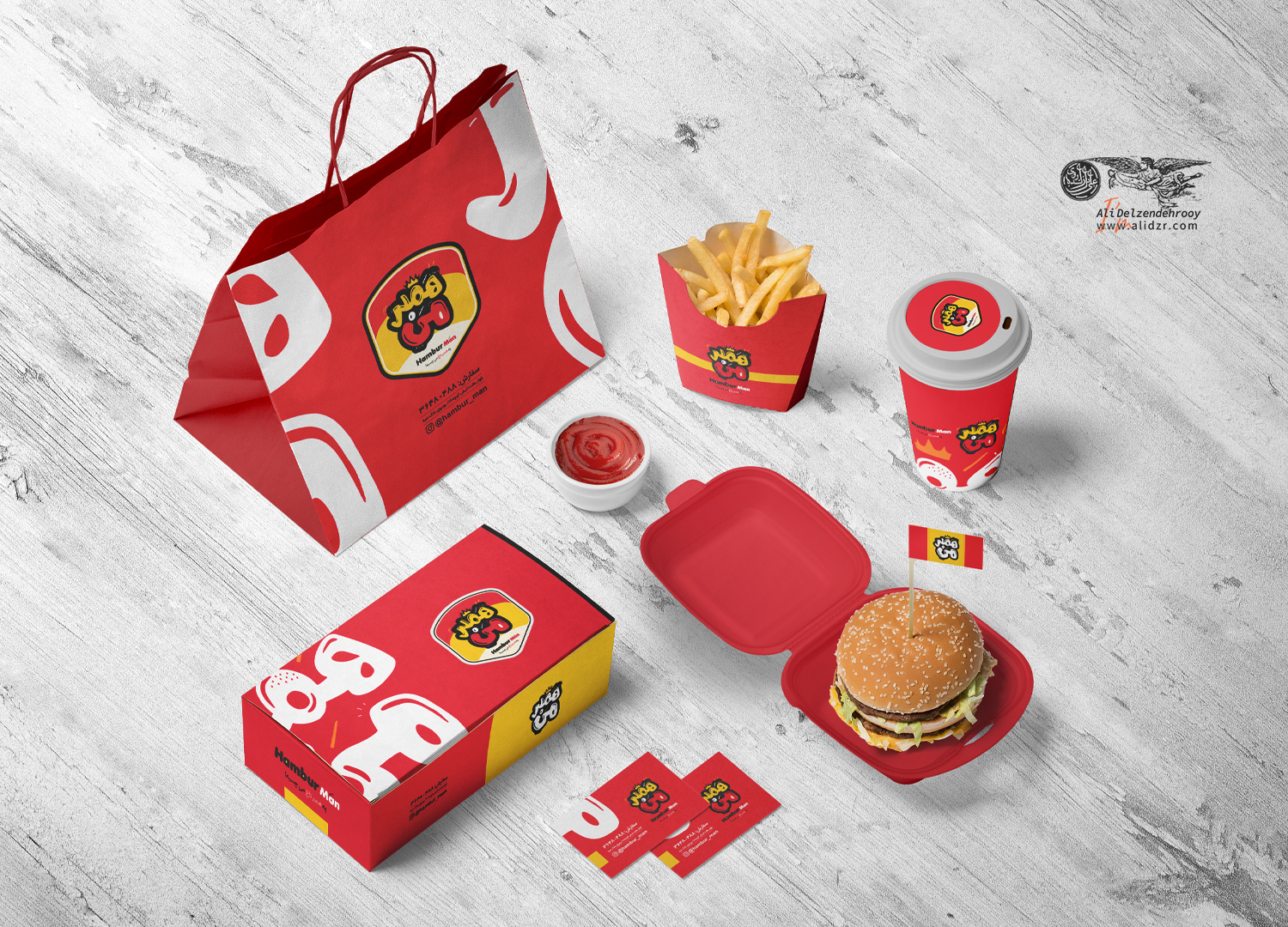 When it comes to eating and restaurants or fast food, appetite and deliciousness come first, so the packaging and graphic design of the advertising package should stimulate the appetite like food. In the designs of the complete advertising package of this fast food, I have tried to stimulate the appetite of the customers either in terms of logo design or the use of form and color. Selected project that was published in the book with ISBN No. 9786008004824
Order: Packaging design
Title: Hambur Man
Client: Mr. Amin Alidost
Technique: Offset printing
Date: 2019
One of the designs that is done under the advertising campaign is the design of the booths and exhibitions. In fact, the design of the booth as well as the presentation of catalogs, flyers, etc. are presented in the form of an integrated and professional advertising package. In these pictures, I have designed the JiBi JOBS Booth, a successful startup in the field of advertising and branding. This project was an exciting experience for me.
Order: Booth Design
Title: JiBi Jobs
Client: JiBi Jobs Team
Date: 2014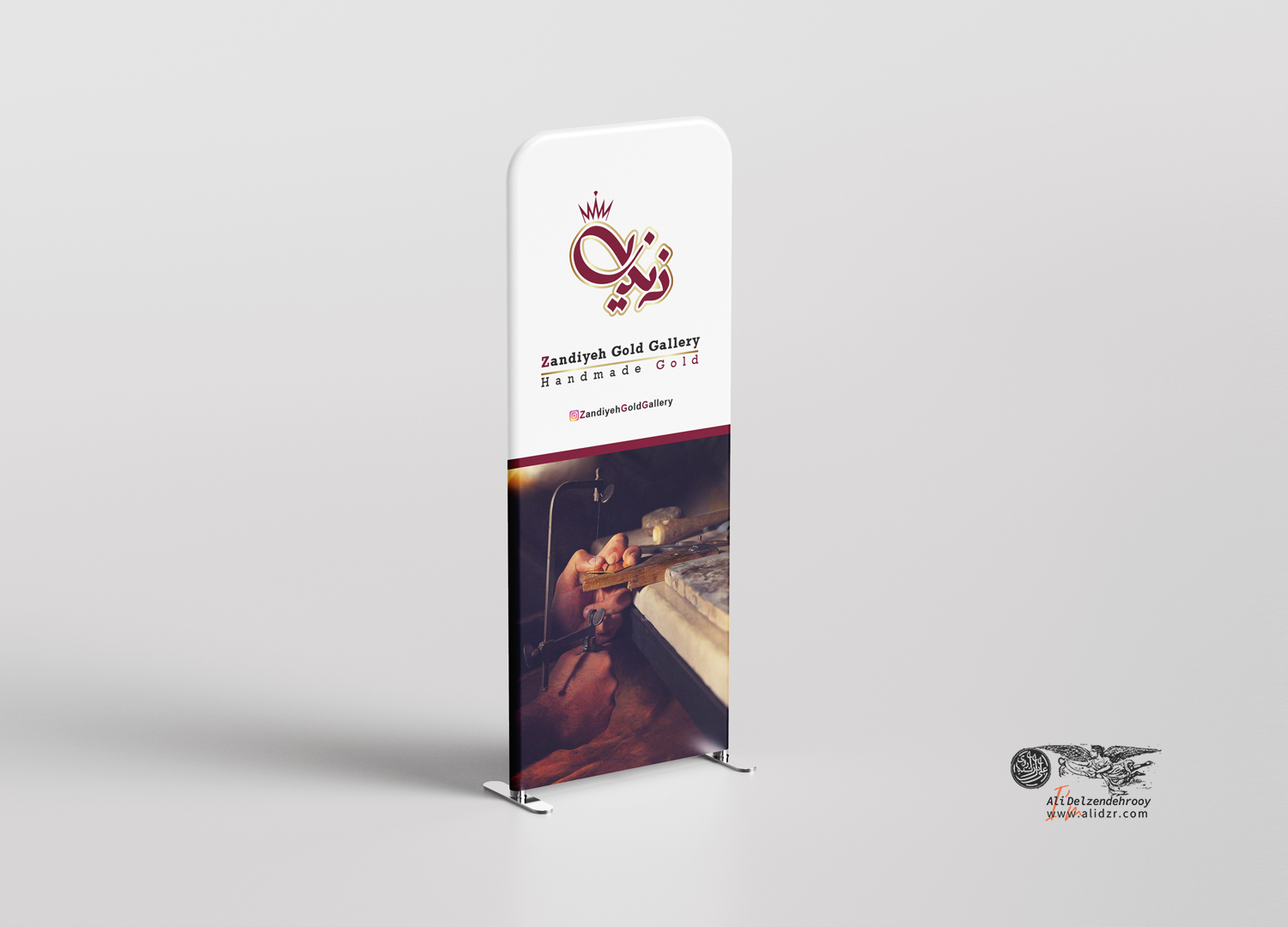 This stand banner is designed for Zandiyeh Gold Gallery, in which the logo and space of the workshop are displayed. This banner stand is placed in the stores of this brand as well as in commercial and specialized exhibitions.
Order: Stand Banner Design
Title: Zandiyeh Gold Gallery
Client: Mr. Ehsan Ashofteh
Date: 2016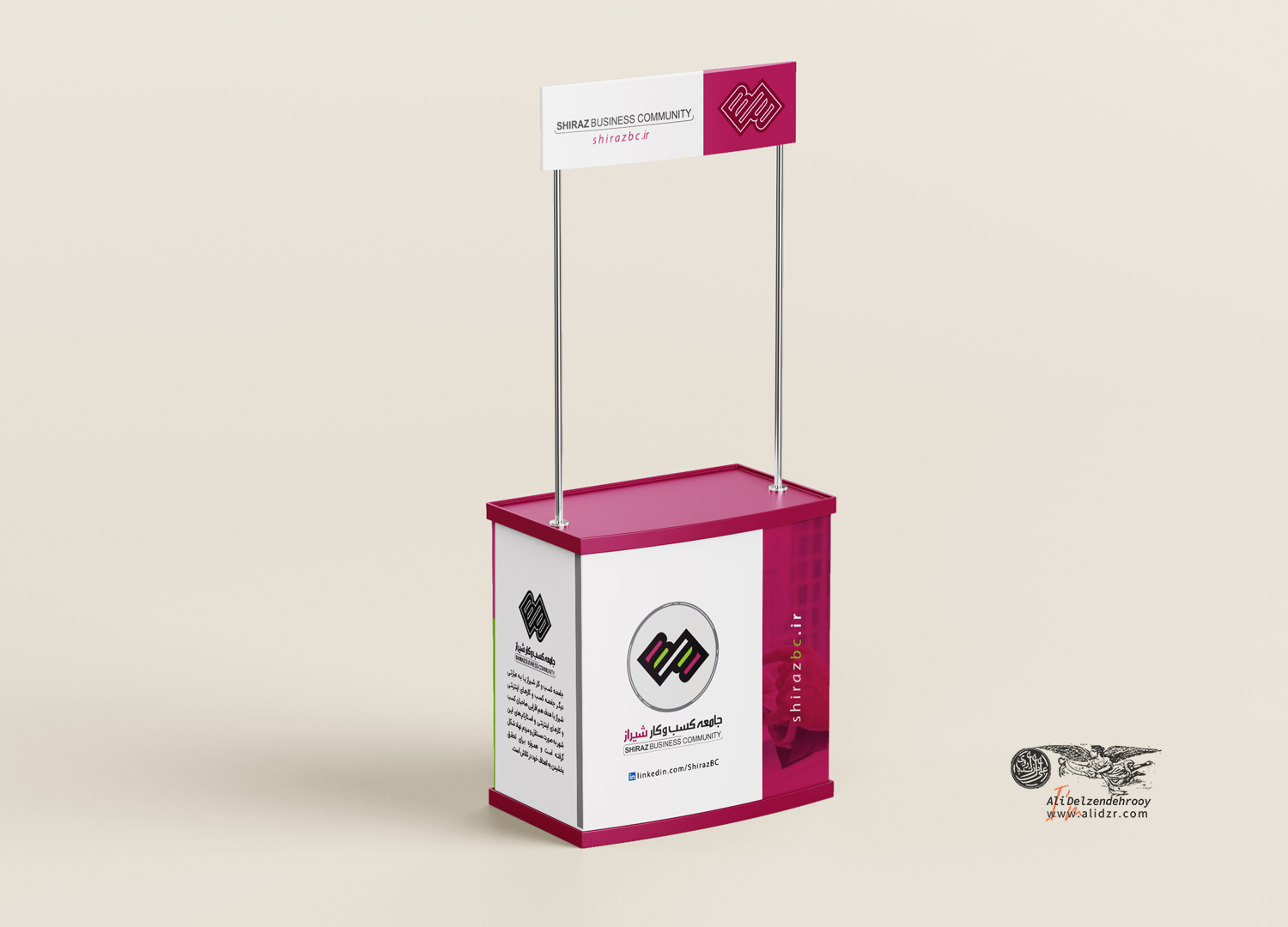 Service counter or trade stand design is based on visual identity. This counter is designed for the Shiraz Business Community, which is located in various events such as startup weekends, business exhibitions, etc. in a suitable place to provide answers to visitors and also to provide advertising flyers.
Order: Counter and Trade Stand Design Title: Shiraz Business Community
Client: Mr. Hamed Takmil
Date: 2018
NAGAHAN KETAB is the title of the bookshop & cafe in Budapest. In my client›s advertising project, while being attractive in terms of its connection to art and books, logo design is also important to me. In designing the Persian language logo of the NAGAHAN KETAB, I have merged the two words Suddenly and the book. The complete design order package for this client includes logo design, visual identity, promotional items such as mugs, bookmarks, notebooks, sign walls, etc.
Order: Package of Advertising Campaign
Title: Nagahan Ketab Bookshop & Cafe
Client: Mr. Farid Tehrani
Date: 2021
Designing advertisements for magazines & etc.
Fars Nov Cement Company, for the new products of Firoozabad Cement Factory (a city located in Fras province in Iran), has given me several orders for graphic design of these products (for advertisements of magazines, newspapers, flyers and billboards). The client›s emphasis on brainstorming me and the graphic design of these products has been on the fastness, strength and durability of this type of cement. Accordingly, I have used various symbols and ideas to design these ads. Like an elephant standing on a concrete block and showing the strength of this product.
Order: Designing advertisements for magazines, flyers, billboards, etc.
Title & Client: Fars Nov Cement Company
Date: 2016
Visual website design & UI
During these years of my activities, I have designed various motion graphic projects, visual website design & UI, applications, movie captions, etc. This is one of the examples of visual website design. This project shows the user profile, the social network home page and the user interface that I designed for Last.today graphics.
Order: Visual website design & UI
Title: Last.Today
Client: Mr. Farshid Mahmoudi (LastToday Team)
Date: 2019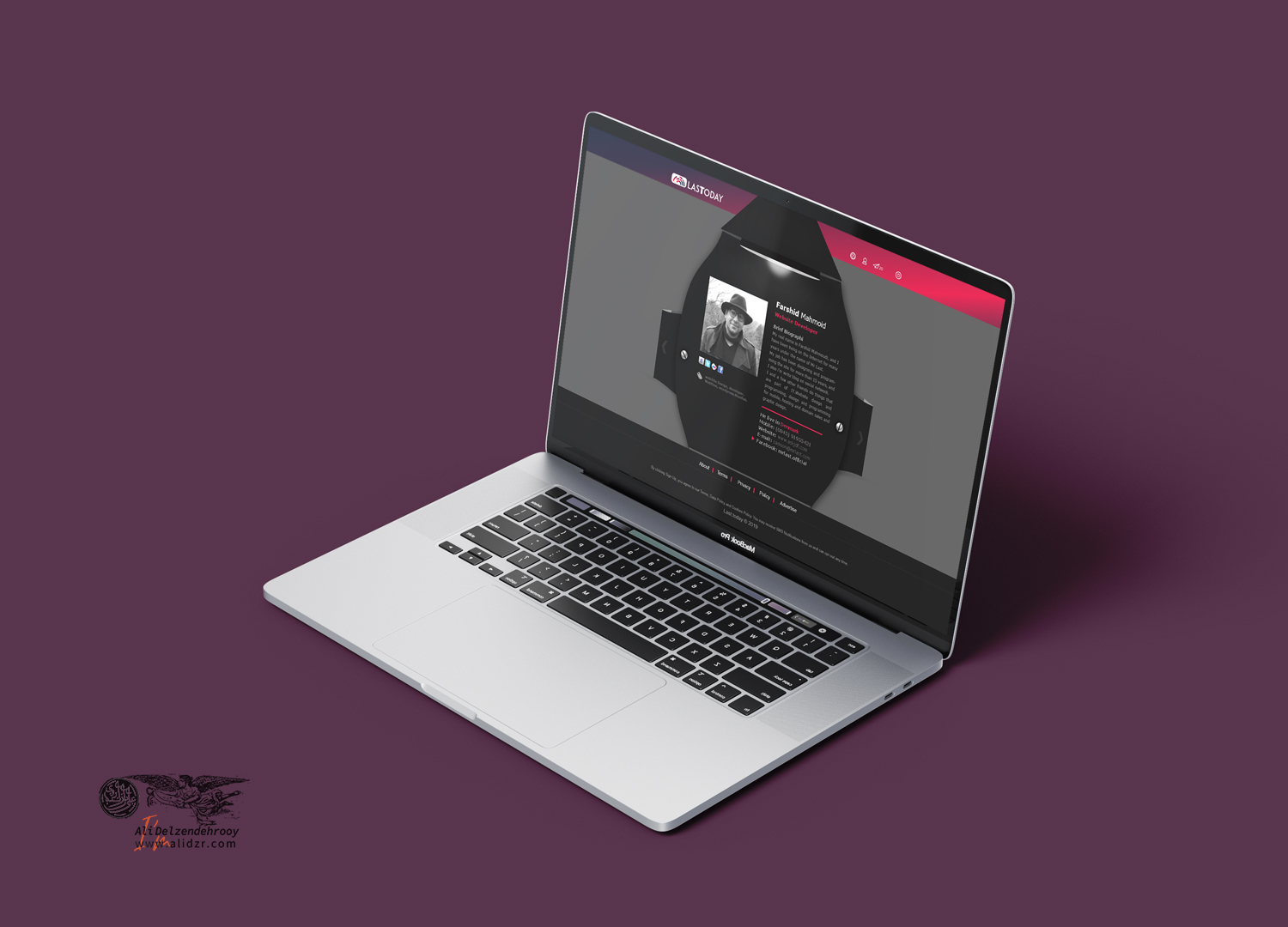 Memorial postage stamp design
Postage stamp design is one of the graphic parts that is sometimes designed as an advertisement or a memorial. In this project, I have designed a Memorial postage stamp design for the MicaMall complex. My focus in this project has been more on showing the brand of this complex and the client has been offered several colors for this promotional design.
Order: Memorial postage stamp design
Title: Mica Mall
Client: Mica Mall Complex
Date: 2021